Vaser in Bangkok & Vaser Liposuction Thailand
including Vaser Hi-Def in Thailand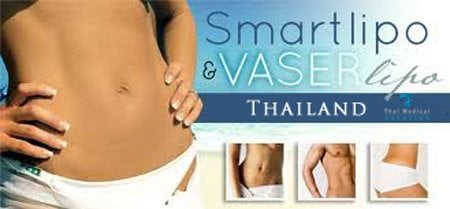 What is Vaser in Bangkok?
Vaser liposuction Bangkok, also referred to as Vaser in Bangkok or LipoSelection Bangkok, is a new alternative technology to to traditional tumescent liposuction Thailand. Vaser in Bangkok is an ultrasonic liposuction technique where fatty deposits are carefully removed from under the skin to improve the overall aesthetics of your body and skin care in Thailand. Clients who are interested in getting treated by Vaser in Bangkok liposuction should be in decent physical condition already and are just looking for a simple and effective body contouring or sculpturing that Vaser in Bangkok liposelection allows as opposed to the traditional use of liposuction as just a quick way to lose extra weight.
Vaser in Bangkok was introduced in 2004 as an US FDA approved method of ultrasonic liposuction in Bangkok Thailand. This amazing technology is very effective and uses the power of focused sound waves to gently and carefully loosen fat deposits to be sucked out and help create smooth contouring,sculpting and shaping of the body.
Vaser in Bangkok Video Overview – Vaser Liposuction Thailand Animated Video
How does Vaser in Bangkok and VASER Hi-Def Liposuction Thailand and Liposelection Thailand work?
Vaser in Bangkok liposuction uses a saline solution or tumescent liquid mixed with minor anesthetics. Vaser Liposuction Thailand liquid is then injected only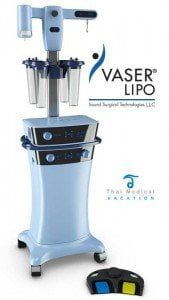 into the areas being treated. Vaser in Bangkok and Vaser Hi-Def Thailand use an ultra-sonic high frequency vibration to break down the fat tissue Instead of the traditional tumescent liposuction use of a cannula to manually break down the fatty tissue or unlike Smart Lipo Thailand that uses lasers or WAL or Water Assisted Lipo Thailand that uses water pressure to break down the fat. The Vaser in Bangkok liposuction uses a modern ultra-sound & high frequency vibration technique to break and destroy fat cells. The ultra-sonic high frequencies can cause a tickling sensation so Vaser in Bangkok is sometimes referred to as Tickle Lipo Thailand.
Thai Cosmetic Vacation only uses the top cosmetic surgeons in Thailand that are specially trained and accredited to specifically use the Vaser in Bangkok ultrasonic probes and machine. The VASER lipo Thailand probes are carefully inserted into the areas being treated so that the fatty tissues are able to gently break down the fat cells without causing too much trauma to the surrounding areas. The Vaser in Bangkok liposuction probe vibrations gently disengages & loosens the fatty cells before they are ultimately emulsified with the infused tumescent fluid. Once the emulsification begins,the plastic surgery Thailand specialists will insert a micro-cannula suck out the fat and liquid. The doctors will sometimes leave a little anesthetic behind in the tissues that were treated to help reduce any post-procedural pain. Vaser in Bangkok is also popular for male breast reduction Thailand and female breast reduction Thailand.
Vaser Liposuction Reviews – Is Vaser Liposuction Thailand Painful?
Vaser Lipo Thailand is a much gentler and less traumatic method of liposuction Thailand and other weight loss Thailandprocedures. When compared to traditional tumescent liposuction techniques and offers the top cosmetic surgeons in Thailand great control over precision to help get you that smooth contoured look you desire. Vaser liposuction Thailand was specifically designed to not only loosen fat but also to preserve and preserve and protect other surrounding tissues. The Vaser Liposelection Thailand technique accomplishes just that by using saline solution and ultrasonic sound waves that produce much less bleeding and bruising and lead to a quick recovery time.
What areas are suitable for Vaser in Bangkok -VASER Hi-Def Thailand & Liposelection Thailand?
Areas on your body that are well suited for Vaser in Bangkok liposuction include:
Vaser Liposuction Thailand for the Thighs
Vaser Lipo Thailand for the Knees
Vaser Lipo Thailand and Vaser Phuket for the Abdomen
Vaser Hi-Def Thailand & Vaser Bangkok for the love handles
Vaser Liposuction Thailand for the Arms
Vaser Liposuction Thailand for the Chest
Vaser Lipo Bangkok Thailand for the chin
Vaser Bangkok Thailand for the neck area
How long does the Vaser Liposuction Thailand Treatment Take?
The Vaser in Bangkok and Vaser Hi-Def Liposelection Thailand procedures are generally performed at a modern state-of-the-art hospital or in a accredited clinics operating room and doesn't require you being put to sleep. Using general anesthesia reduces the patient health risks and significantly lowers the cost of the Vaser in Bangkok cosmetic surgery Thailand procedure. Our clients are given the options however to have IV sedation or even general anesthesia depending on your preference. The Vaser in Bangkok and Liposelection Thailand treated areas will be wrapped using compression garments should be worn continuously for 6-14 days. The doctors may also place temporary drains for 2-3 days to remove any excess fluids. The results should be apparent immediately following the Vaser Lipo Thailand treatment but your new body shape wont fully settle for atleast 3-6 months after your plastic surgery Thailand procedure.
How long Should My Vaser in Bangkok Cosmetic Vacation Be?
We recommends a 7-10 day cosmetic vacation for Vaser in Bangkok,Vaser Hi-Def Bangkok & Liposelection in Bangkok
Vaser Liposuction Reviews – What about fat migration or future weight gain after Vaser Lipo in Bangkok?
Fat migration is a common mis-perception for many people. Any weight loss or gain after your Vaser in Bangkok Lipo procedure will generally be proportionately distributed and spread out over your entire body. Once you your fat removed with Vaser in Bangkok, it is gone permanently. The only caveat is that you need to assume a healthy lifestyle consisting of a proper diet and regular exercise. Vaser in Bangkok and Vaser Phuket is a jump start to a new body but should not be used as an excuse to follow poor dietary habits. Some fat layers may also remain in areas that were left untreated. If you don't follow proper diets and exercise after your Vaser Liposuction Thailand and gain some weight rapidly, the remaining untreated fatty tissues will then expand. Normal age related changes should also be expected. Please read our pre and post operative guidelines to achieve optimal results.
What is the Cost of Vaser in Bangkok and Liposelection in Bangkok?
Cost of Vaser Liposelection in Bangkok ?
Vaser in Bangkok and Vaser Hi-Def costs will depend on the sizes and locations of the areas you want treated. Generally the cost of Vaser in Bangkok start at around €1150 Euros per area or about $1,700 to $2,500 USD per area. TMV can provide our clients with free exact costs the cosmetic surgeons can review your submitted pictures and our medical history to ensure that you are a good candidate. Vaser in Bangkok, Liposelection Thailand and Smart Lipo Thailand are intended for precision guided targeting for problem areas so larger sites like the thighs and/or hips are usually slightly more expensive due to the significant amount of additional work that is required to be performed by the surgeon.
Vaser Lipo Hi Def Price – Vaser Liposuction Thailand – Vaser Review
The cost of Vaser Hi-Def Thailand starts at about $3,500 USD. The benefits of Vaser Lipo Thailand and Vaser Hi-Def Thailand is the drastically reduced downtime needed. The reduced downtime is also a great benefit for the non-invasive Coolsculpting Lipo Thailand procedure and Vaser liposuction reviews and comparison.
Vaser Liposuction Reviews – Smart Lipo Thailand Before and After Pictures
Why have VASER Liposuction Thailand and Liposelection Thailand with TMV?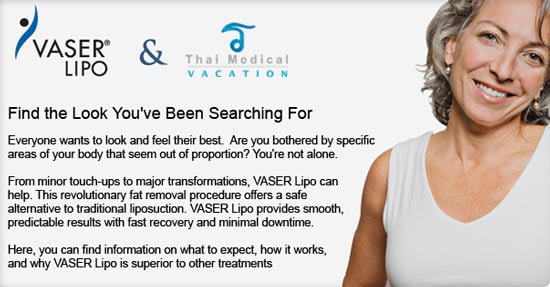 Vaser Liposuction Reviews Phuket
Thai Cosmetic Vacation is 100% independent voice and one of the most trusted organizations in Thailand. Our mission is to help you every step of the voyage by giving you honest information and prices. TMV specializes in cosmetic tours and we collaborate with only the best internationally accredited hospitals in Thailand and also with the top cosmetic surgeons in Bangkok . we offer our complimentary assistance on everything medical in Thailand and also other non-medical components of your medical tours at absolutely no extra cost to our clients.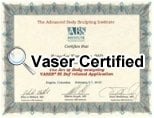 No everyone is a good candidate for Vaser liposuction Thailand. Usually The top doctors will only select those patients they believe will benefit from this fantastic treatment. In order to see if you make a good candidate the doctors need to first understand your current medical condition and look at some pictures of the areas you want treated. Once eligibility is established we can offer exact prices with all current promotions being offered in Bangkok, Phuket, Pattaya and Chang Mai. ALL TMV clients receive priority scheduling selections for treatments and discounts to hotels and many other local offerings. TMV also offers our clients All-Inclusive packages for Vaser in Bangkok that include 3,4 and 5 Star accommodations, point to point transportations,translations, and all your medical tour related needs and wants. TMV also offers Day trips and fun guided excursions upon request.
For more details about Vaser in Bangkok and Vaser Liposelection Thailand packages please visit our treatment packages and promotions page.
Start Your Vaser Liposuction Thailand Inquiry Now:
After contacting us, one of the dedicated TMV patient care coordinators will review all the estimated costs,benefits, risks,travel summary, and any other need information for your cosmetic vacation to Thailand. Please prepare your medical history records so that the doctors and surgeons can review them to quickly see if you can benefit from the Vaser Lipo Thailand treatment. The inquiry and recommendations are at no charge so you have nothing to lose.
The actual Vaser Liposuction Thailand trip will only require a 7 to 10 day stay in Thailand. After Vaser in Bangkok you can get back to your everyday life and also enjoy a fabulous and exiting trip to Amazing Thailand.
"The Journey of a Thousand Miles Starts with a Single Step"